Mayor Forced to Eat
12 Pounds of Bananas
Los Angeles Times
May 18, 1978
COACALCO, Mexico (UPI) — Nearly 4,000 rock-throwing citizens enraged at the police shooting of a workman stormed the town hall Monday, seized Mayor Jose Ramon del Cueto and forced him to eat 12 pounds of bananas, authorities reported.
Cueto was then forced to sign his own resignation.
The angry crowd also seized Commander Nicolas Campuzano of the local judicial police and Deputy Commander Manuel Rodriguez of the municipal police. Both men were stoned.
The violence was a protest against the killing of Jose Reyes, a workman in this small town 14 miles north of Mexico City. The two policemen accused of killing him were under arrest.
Man Gets 20 Days in Toy
Banana Flashing
STAMFORD, Conn. — A former Stamford police officer has been sentenced to 20 days in jail for lewd conduct involving a toy banana. Arthur Bertana, 63, was ordered to serve a 4½ year prison term suspended after 20 days and one year of probation.
Bertana, who had been on probation for lewd conduct in Stamford more than four years ago, was arrested in March after police said he placed a toy banana in his pants and flashed people on Greenwich Ave.
Police said he would place a shopping bag in front of his pants, exposing a bulge to women in a sexually offensive manner.
"It was a yellow, plush, child's toy banana," Sgt. Roger Petrone Jr. said at the time of Bertana's arrest. "It had a smiley face on it."
Beyoncé's Sis Won't
Give Up Her Banana
August 29, 2011
MIAMI BEACH (CBS4) — Solange Knowles is tweeting mad at the Miami Beach Police Department. According to the R&B singer, she was the victim of discrimination after an officer allegedly pulled a weapon on her for doing "nothing illegal" and now there's an internal affairs investigation. The Miami Beach Police Department confirmed Monday that it was investigating an incident which involved Solange Knowles, the younger sister of pop-superstar Beyoncé Knowles.
The incident, according to police, took place after Knowles was not allowed inside Club Cameo on South Beach Sunday night because she was carrying a five-foot tall inflatable banana. Police claim Knowles got angry and she claimed the reasons she wasn't allowed in the club were racially motivated.
In a press release, Miami Beach Police Department spokesman Juan Sanchez stated officers who worked off-duty at the club escorted Knowles across the street to "further the conversation, where Ms. Knowles claims one of the officers pulled a 'weapon' on her, not a firearm, and threatened to deflate the banana."
The younger Knowles took to Twitter to express her anger over the incident, which she claimed was the result of discrimination. "I have literally had my last leg with discriminating police! Miami police department will be notified," she first tweeted. "A police officer just pulled a weapon on me.... I have done NOTHING illegal, against the law, or anything of the sort."
Department spokesman Sanchez confirms Knowles contacted the Miami Beach PD regarding the incident and the Internal Affairs Unit will be contacting her regarding her allegations.
Most Popular Item
at Walmart: Bananas
Business Week, Aug. 15, 2010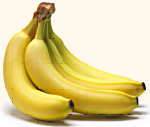 Walmart, which registered $405 billion in sales last year and is the largest retailer in the world, sold more bananas than any other single item in its stores.
School Suspends Teenage
'Banana Man' for Harmless Stunt
By Lauri Apple
gawker.com, Sep. 20, 2011
Fourteen-year-old Brian Thompson was handcuffed, placed in a cop car, and suspended from school for 10 days, all because he ran down the sidelines at half-time during a football game while wearing a banana costume. At least he wasn't arrested! Yes, at least Thompson—an autistic teenager with musical talent and a playful sense of humor—wasn't incarcerated for his totally innocent prank that made people laugh. That's where we are nowadays, America—being glad when kids avoid being arrested for doing absolutely nothing wrong at all.
Apparently the wise officials at Colonial Forge High School, where Thompson is a student, believe that running in a banana suit is disruptive and can lead to "mayhem." Video footage didn't show any of the adolescent spectators in the stands declaring a revolution, taking hostages, or burning down the stadium in response to Thompson's prank.
Some of Thompson's classmates tried to express solidarity by wearing "Free the Banana Man" t-shirts, but school officials took their shirts away, and now they have to attend Saturday school as punishment. Colonial Forge enforces a zero-tolerance policy against bananas.
Florida High School Suspends
Teacher for Touching Girl on
Head With Banana
DailyCaller.com, May 22, 2013
Is a cigar sometimes just a cigar? That debate will remain unresolved, but The Daily Caller can say with confidence that a banana is definitely not always just a banana at North Marion High School near Ocala, Fla. School district officials suspended North Marion High teacher Jonathan Hampton for three days without pay after he allegedly used a banana to touch a female student on the head during class, reports Ocala.com.
Hampton was teaching an advanced, college-level course at the time. The theme of the discussion that day was the Freudian ramifications of Ken Kesey's 1962 novel One Flew Over the Cuckoo's Nest. According to a May 13, 2013 discipline letter obtained by local CBS-affiliate WKMG, Hampton "rubbed a student's head and neck area with a banana" while the topic was "cylinder objects, phalluses and/or sex symbols."
The unidentified student's parents reported the incident on May 6, some three months after it happened. According to the school district, they complained because their daughter felt uncomfortable. It's not clear what factors caused them to wait three months to lodge their grievance.
A district representative said that Hampton was suspended because, given the totality of the circumstances, school officials had determined that he made inappropriate use of the banana. The discipline letter written by deputy superintendent Rick Lankford suggested that other students had complained that Hampton's college-level coursework has gone beyond community norms with "excessive frequency, causing discomfort to many of your students."
Some parents and community members side firmly with the school district. "That is disgusting, very disgusting," said Dale Johnson, identified by WKMG as a grandmother. "I don't think he should be allowed to teach kids. You don't do stuff like that and get away with it."
Hampton did not speak with local media but his attorney Mark Fiedelholtz did, telling a much different story. "He doesn't recall ever touching the student with a banana, but if he did it would be to get their attention," Fiedelholtz told WKMG. "There was nothing else to it," he said. The attorney added that no other students had made a complaint at the time or during the three subsequent months about the alleged banana incident.
A Peeling Diet
STOCKHOLM, Sweden — A Swedish window washer says he's finally found a diet with a peel, to say the least.
Roland Bergman, 44, says that for over two years he's been eating 20 to 25 bananas a day, together with three spoonfuls of oat seed and more than a quart of pure cow's milk.
The window cleaner in the town of Gavie, 120 miles north of Stockholm, nevertheless looks healthy.
Bergman said he started eating vegetarian food when he was 30, but it didn't really satisfy his hunger.
Eventually he discovered bananas suited him, and he said he feels fine—although some doctors had warned him that his life might be shortened as a result of the diet.
European Protesters March
in G-20 Rallies
(Excerpt from a longer article)
LONDON, England — Thousands of people marched through European cities Saturday to demand jobs, economic justice and environmental accountability, kicking off six days of protest and action planned in the run-up to the G-20 summit this week in London....
....
Not all demonstrators focused on the economic main message. Some chanted "Free, free, Palestine." One man dressed in a banana suit waved a sign reading: "Bananas for Justice."....
Bananas and Cucumbers:
Too Sexy for Women?
FoxNews.com, Dec. 8, 2011
An Islamic cleric living in Europe reportedly has warned Muslim women not to get too close to bananas, cucumbers or other produce—to avoid having "sexual thoughts." The unnamed cleric, whose directive was featured in an article in el-Senousa, a religious publication, purportedly said that if women wanted to eat these foods, a third party—preferably a male related to them, such as their father or husband—should cut the items into small pieces before serving, the Egyptian website Bikya Masr reported. Carrots and zucchini also were added to the alleged cleric's list of forbidden foods for women.
News of the statement quickly spread online, leaving many liberal Muslims embarrassed and angry, evoking a flurry of mockery in online forums. "Many of the commentators are Muslims themselves, who have expressed their anger against the cleric for making Islamic religious practices appear unreasonable," The International Business Times reported.
BikyaMasr.com said the cleric, identified only as a sheikh, was asked in the interview how to "control" women when they are shopping for groceries, and whether holding these items at the market would be bad, to which he replied that the matter was between them and God.
Questions also arose about the validity of the original published interview. An online search for the el-Senousa article, for instance, yields only results linking to the Bikya Masr report.
But the mere suggestion of a strict order for Muslim women handling food has been enough to send people to website forums and Twitter to air their indignation. Danish/Lebanese journalist Helen Hajjij tweeted on Wednesday: "So if Muslim women should stay away from cucumbers and bananas, should men stay away from melons?"
Ann Landers: Banana Cure
for Headaches Gains
a Lot of Appeal
Dear Ann Landers: Recently, a reader sent in a "sure cure" for a headache. He said it worked every time. It went something like this: Take a banana, and peel it. Tape half of the banana peel to your forehead with adhesive and the rest to the back of your head. He said the headache should be gone in 20 minutes.
I don't get headaches often, but the day I read that column, I had a killer migraine. Although people say you shouldn't put bananas in the refrigerator, I always do, and that is where I found my "lifesaver." I used commercial duct tape to keep half the banana peel on my forehead and the other half on the back of my neck. Ann, in less than 30 minutes, my headache was gone.
I called my husband, a chemistry teacher, and told him about my miraculous cure. He said, "That was no miracle. You apparently had a potassium deficiency in your system, and the banana filled it." Mystery solved.
—Greensboro, N.C.
Dear Greensboro: I'm happy it worked for you. Keep reading for more:
From Chatham, Ontario: Your "banana cure" intrigued me, so I taped it to my bathroom wall "just in case." Yesterday, I felt a headache coming on and went into action. When I looked in the mirror and saw myself with a banana peel taped to my forehead, I started to laugh and couldn't stop. After about ten minutes, I took a brief nap. When I woke up, the headache was gone. I don't know if it was the banana peel, the laughter, the nap or the combination of all three, but from now on, there will always be a banana in my refrigerator.
From Seattle, Wa.: You certainly proved your gullibility when you fell for that old banana-peel gimmick sent in by Dick Frymire of Irvington, Ky. He assured you that within 30 minutes, if you apply the banana peel and just relax, the headache will disappear. Actually, at least 85 percent of all headaches will disappear if you "just relax" because most headaches are caused by tension.
From Sierra Madre, Calif.: You asked readers to try the banana-peel cure for headaches. Oddly enough, I felt a headache coming on just as I was reading that column. I couldn't decide if I should take some pain medication or go for the banana cure. I went to the kitchen, peeled a banana and taped it to the front and back of my head with package tape. Within a few minutes, my headache was gone.
From Burke, Va.: I haven't needed the banana-peel headache cure because my husband, an Indian from South America, learned a simple cure from his mother. Apply thick slices of an unpeeled potato to the neck and forehead. Secure with a scarf. It has never failed.
From Mexico City: We have four sloppy sons who throw everything wherever they feel like it. Last week, one of the kids threw a banana peel on the kitchen floor. My mother-in-law, who lives with us, slipped on it. Thank God she wasn't hurt, but she was plenty mad. She said that from now on there will be no more bananas in our house. I thought this was mean of her, but my husband backed her up. Do you know of a food substitute?
Dear Mexico City: A single banana has about 471 mg. of potassium. A medium baked potato has 844. Other sources of potassium are avocados, raisins, sardines, orange juice and apricots. Be careful with the avocado. It is more slippery than a banana peel!
Cops Say Man Used Banana
to Rob Store
MyFoxDC.com
September 18, 2014
PHILADELPHIA (AP) — Police in Philadelphia say a man used a banana he swiped from a convenience store counter to simulate a gun while he robbed the place.
Police on Wednesday posted surveillance video of the holdup reported in the East Parkside neighborhood. The footage shows a man entering the corner grocery store on Tuesday. He waits in line and then takes a banana from the counter by the cash register. The suspect then sticks the banana in a front pocket of his sweatshirt and points it toward the cashier.
Police say the man demanded money and cigarettes, and made off with an undetermined amount of cash. The video shows him riding off on a bicycle.
Teenager Brandishes
Banana in Hold-up
NORTH CAROLINA — An ingenious North Carolina teenager allegedly brandished a banana rather than a gun while holding up a store, then tried to eat the evidence.
John Szwalla, 17, tried to rob an Internet cafe with the fruit held beneath his t-shirt, but the staff overcame him, say police.
Szwalla managed to eat the banana, but failed to eat the peel, which the police duly photographed and took into evidence.
Colorado Company Offers
Banana Coffins
DENVER, Colo. — Casket makers catering to natural burials have offered biodegradable coffins made of such materials as recycled newspapers or cardboard. Ecoffins USA, based in Montrose, Colo., is selling caskets made of banana sheaves. They take six months to two years to biodegrade. In natural burials, bodies aren't embalmed and eventually decompose into the earth. Ecoffins USA is the sister company of The SAWD Partnership, which has helped fuel the "green" funeral movement in the United Kingdom.
Marketing director Joanna Passarelli says the company sold $40,000 worth of banana-sheaf or bamboo coffins to funeral homes last year. At least 14 funeral homes around the country offer them. "We either get an, 'Oh, my,' or, 'That's very interesting,' " Passarelli said. "Some people think it's a great idea. We've had funeral directors look at them and say, 'I guess you can go to hell in a handbasket now.' "
Sax-Tiedemann Funeral Home and Crematorium in Franklin, Ill., has sold one banana Ecoffin since it started offering Ecoffins in the last several months. Stephen Dawson, owner and president of Sax-Tiedemann, said it's not that far removed from the woven baskets funeral homes used in the 1950s and '60s to pick up bodies from hospitals and nursing homes.
Passarelli contends the bamboo and banana coffins, made in Asia, are better for the environment than the cremation process. Her interest in ecofriendly coffins grew after her son's school showed the movie "An Inconvenient Truth" in which Al Gore warns of climate change. Her son came home wondering why he should bother with homework if the world would be destroyed. "I said if everybody did one little thing it would have a snowball effect," she said.
Banana at Large After
Attacking Gorilla in
Strongsville
By Melissa Reid,
Fox 8 Cleveland, July 7, 2011
STRONGSVILLE, Ohio — There is a banana at large in Strongsville. Police say that someone dressed up as a banana and attacked the Wireless Center's mascot, a gorilla, last week.
"I noticed a kid in the bushes. Then he just emerged, dressed up as a banana, and sprinted as fast as he could at our gorilla," said Brandon Parham, the manager. "The kid just speared our gorilla." Parham and another employee witnessed the attack. "The kid was in mid-air, flying. He just looked like a Spartan from that movie '300,' except he was a banana," added Parham.
The Wireless Center uses the gorilla as an advertising tool on Mondays, Tuesdays and Fridays. "After he got tackled, the gorilla just got back up and adjusted his head. He kept on waving his sign around," said Parham. Police say the person dressed up as a banana split and headed south on Pearl Road.
According to Parham, the person who was wearing the gorilla costume will recover. "This is just bizarre. It's really not normal in the food chain. That's not really how this works. The gorilla should have won," said Parham.
Police were unable to locate the banana. They believe it was a prank.
America is Not a
Banana Republic
By C. Brown & D. Rogers,
Politico.com, July 11, 2011
(Excerpt from a longer article)
President Barack Obama called congressional leaders back to the White House for another round of budget talks Monday, telling them during a testy meeting Sunday that they will gather daily until a deal is reached, Democratic and Republican officials said.
During a 75-minute session Sunday at the White House, Obama told the congressional leaders that America is not a "banana republic," so he won't agree to several months-long debt increases that raise fears of a default, according to two Democratic officials familiar with the meeting.
Oldest Man, New Yorker, 112,
Swears By Bananas, Anacin Tablets
By Clyde Hughes
NewsMax.com, July 26, 2013
The world's oldest man is a 112-year-old New Yorker, a self-taught musician born in a village in Spain, who attributes his long life to a daily banana and a daily dose of six Anacin tablets. Salustiano Sanchez-Blazquez of Grand Island, N.Y., took the title of world's oldest man when Jiroemon Kimura died June 12 at age 116, The Associated Press reported. Robert Young, senior gerontology consultant with Guinness World Records, told the Associated Press 90 percent of all supercentenarians are female and Salustiano is currently the only male born in 1901 with proof of birth.
According to the Guinness World Records website, Sanchez-Blazquez was born June 8, 1901 in the Spanish village of El Tejado de Bejar, in the Salamanca province. He earned pocket money at village celebrations and weddings by playing the double reed instrument called the "dulzania," the website said.
Sanchez-Blazquez and his older brother Pedro went to Cuba at 17 to find work, eventually landing jobs in the country's sugar cane fields. In August 1920, he came to the United States through Ellis Island and worked the coal mines in Lynch, Ky. He moved to the Niagara Falls area and married his wife, Pearl, in 1934. The couple had a son, John, 76, and a daughter, Irene, 69. Pearl died in 1988. Sanchez-Blazquez's extended family includes seven grandchildren, 15 great-grandchildren and five great-great grandchildren.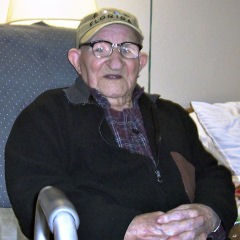 Salustiano Sanchez-Blazquez
Man Arrested After Pointing
Banana at Police
CBSnews.com
November 27, 2014
GRAND JUNCTION, Colo. — A man is facing a felony menacing charge, because two Colorado sheriff's deputies say they thought a banana he pointed at them was a gun. Nathan Rolf Channing, 27, was arrested Sunday, according to the Grand Junction Daily Sentinel. According to an arrest affidavit, Mesa County deputies Joshua Bunch and Donald Love said Channing pointed the fruit at them while crossing a street.
The deputies said they feared for their lives even though they saw that the object was yellow. Bunch wrote in the affidavit that he has seen handguns in many shapes and colors. He wrote that Love was drawing his service weapon when Channing, of Fruitvale, Colo. yelled, "It's a banana!"
Yes, the man accused of pointing a banana at police is from Fruitvale. And yes, one of the police officers he pointed the banana at is named Bunch. And, no, we didn't make this up.
The deputies say Channing told them he was doing a trial run for a planned YouTube video and he thought it would "lighten the holiday spirit."