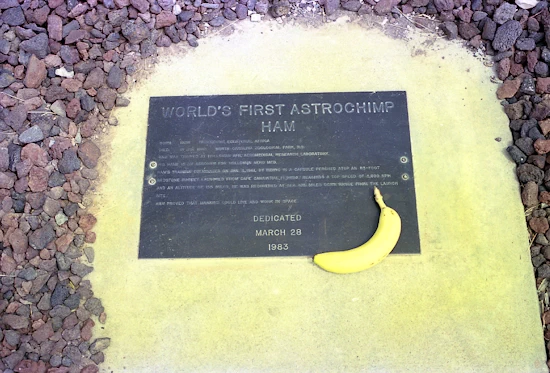 Ham the Space Chimp
International Space Hall of Fame
Alamogordo, New Mexico
Inscription on the plaque reads:
WORLD'S FIRST ASTROCHIMP
HAM
BORN: 1955 CAMEROONS, EQUATORIAL AFRICA
DIED: 18 JAN 1983 NORTH CAROLINA ZOOLOGICAL PARK, N.C.
HAM WAS TRAINED AT HOLLOMAN AFB, AEROMEDICAL RESEARCH LABORATORY.
HIS NAME IS AN ACRONYM FOR HOLLOMAN AERO MED.
HAM'S TRAINING CULMINATED ON JAN. 3, 1961, BY RIDING IN A CAPSULE PERCHED
ATOP AN 83-FOOT REDSTONE ROCKET LAUNCHED FROM CAPE CANAVERAL, FLORIDA,
REACHING A TOP SPEED OF 5,800 MPH AND AN ALTITUDE OF 155 MILES. HE WAS
RECOVERED AT SEA 420 MILES DOWN RANGE FROM THE LAUNCH SITE.
HAM PROVED THAT MANKIND COULD LIVE AND WORK IN SPACE.
DEDICATED
MARCH 28
1983
There are 3 mistakes on the plaque:
Ham was born in 1956, not 1955
He died January 19, not January 18
The rocket launch was January 31, not January 3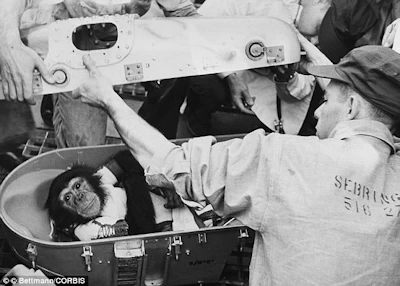 The capsule Ham rode in is opened immediately after recovery.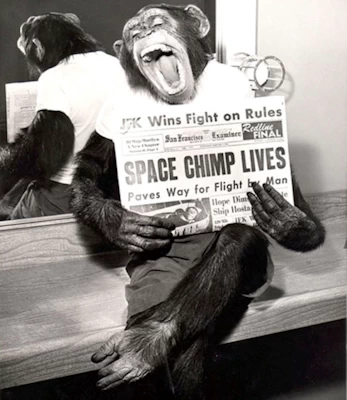 Ham holding a copy of the San Francisco Examiner the day after his flight.